What is the best Chicken Coop feeder for your money?
Ok, so you've got some backyard chickens, and now you're looking to buy a chicken feeder. On the face of it, they all dispense feed to chickens. So what makes some better than others? Here is our assessment on chicken feeders in Australia.
Types of feeders
There are three main types of chicken and poultry feeders for backyard chicken runs.
Bell feeder
Treadle feeder
Tube pipe feeder
What should you look for?
A Quality designed chook feeder is made in such a way to help prevent:
Deterioration in the sun and elements
Rodents and vermin
Feed contamination from chicken faeces (poop)
Feed getting wet
Not all types achieve this. As a backyard chicken keeper, you need a feeder which lessens rodents in the coop. Also, it is vitally essential for the health of your flock that feed is contamination free. Plus if the feed stays dry, it means you are not wasting money replacing wet feed.
So before you go and spend your hard-earned money, you should consider the following.
Bell Feeder review

A bell style chicken feeder is usually cheap plastic construction. It is referred to as a bell feeder as it has a dome on the top underneath which is a large round feed tray. It is generally placed on the ground for hens to eat from. Many bell feeders are made for the budget conscious and are not UV treated. As such, they have a reduced life span in the Australian sun. So if having chickens is part of your plan for a more sustainable lifestyle, a bell feeder certainly is not the best choice. The design allows hens to walk and flick dirt and contamination onto the feed. Healthy hens start with clean, fresh food, not food covered in their faeces. Chickens can flick their pellets or seed out of the hopper onto the ground, which ends up an open invitation to rats and rodents. A good downpour of rain sees the final failing of most bell style feeders. The feed gets wet, and you find yourself replacing it before it goes mouldy.
Our overall rating:

Reason for the score - Cheaply made plastic. Allows feed contamination. Allows feed to get wet. Attracts rodents and vermin.
Treadle feeder review
Treadle feeders are generally made from steel and are a rectangular shape. Chickens access their feed by standing on the front pedal to open the lid. Treadle feeders have been around for a long time. Newer models have a locking pin for the pedal/lid mechanism to lock rodents out of the feed at night. However, unless you are prepared to pick up the feed thrashed out of the feed bay in the day, rodents will undoubtedly come for dinner. The Australian elements can be harsh, and even galvanised treadle feeders are prone to rust. Also, moving parts and springs may require replacement due to fatigue. Treadle feeders still allow on a lesser scale, chickens to walk on their feed which carries both contamination and health risk. In most cases, a treadle feeder will keep feed drier than a bell feeder unless the chickens are feeding in the rain and the lid is open.
Our overall rating:

Reasons for the score - Rusts over time, moving parts require replacing, allows feed to end up on the ground as a rodent attraction.
Dine A Chook Chicken feeder review
Dine A Chook is the original and number one Pipe Style feeder in the market. Over ten years ago, we invented what has become the world's most advance tube feeder for chickens. Genuine Dine A Chook is 100% Australian Made. We don't cut corners and use cheaper Chinese manufacturing. When you buy Dine A Chook you get the best in Australian Quality and support Australian jobs. We use the latest technology advancements in ASA plastics together with patented custom fittings to achieve what others simply can't.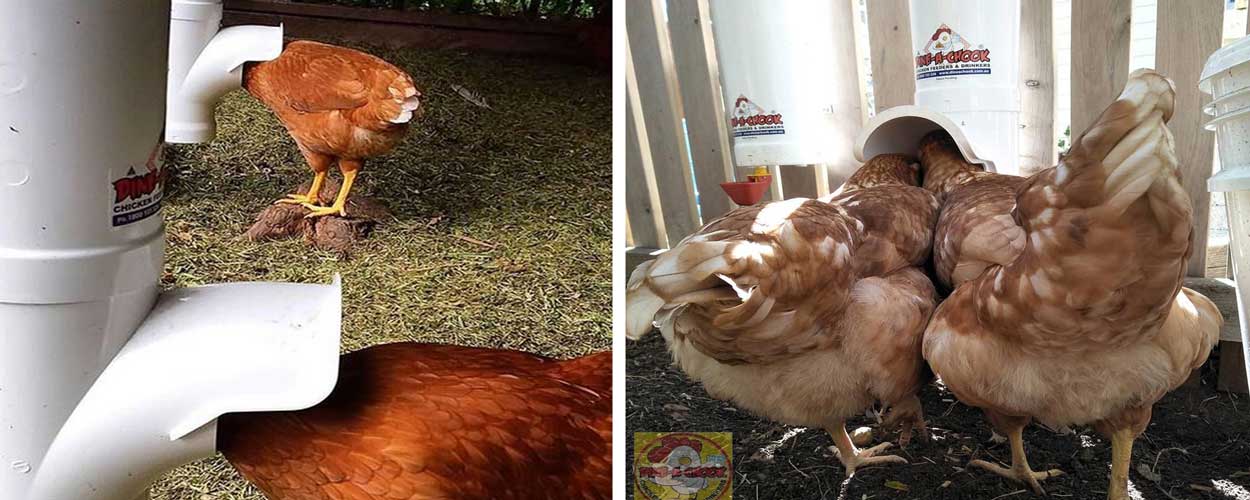 Our overall rating:

Reasons the Dine A Chook feeder is the best.
First, a quick revisit on what a Quality Chicken feeder should do:
It should withstand the sun and elements
Help stop Rodents and vermin
Prevent Feed contamination
Keep feed dry
Dine A Chook feeders do all the above plus more.
Incredible durability in the Australian Sun
Dine A Chook feeders use commercial ASA plastics. ASA looks similar to PVC; however, it uses different material to protect it from harsh UV light and prevent it from becoming brittle. So if you are into sustainable living, a Dine A Chook will last for years and years before needing to be replaced. Dine A Chook is purposefully built robust and durable to give you peace of mind. Where others give up the ghost, a Dine A Chook keeps on going.
The best way to prevent rodents
We use a unique multi paddle system in the feeding hopper which prevents chickens thrashing feed out of the hopper onto the ground. The number one cause of rats in the chicken run is feed on the ground. Dine A Chook helps prevent this. If you use a Dine A Chook together with a good management plan for your chicken coop, you can almost say goodbye to rodents. If you already have a rodent infestation in your coop, read our article on How to get rid of Rats in the Chicken Run.
Stop Chicken feed contamination
The unique design of the Dine A Chook Poultry feeder makes it impossible for anything other than the chickens head to enter the feed bay. Therefore, chickens can not walk dirt or poop into their feed. This makes our design one of the cleanest ways to feed your chickens.
Keep the feed dry
Unless you get horizontal rain squalls, the Dine A Chook patented rain hood and rain gutter system keeps feed dry even in the biggest downpours. If your feed stays dry, you save money instantly by not having to replace the wet feed.
You can use Dine A Chook feeders for pellet and layer mash feed.
As the saying goes, but wait there's more...
No cement or adhesives
Our design employs a patented click-together system. We use no toxic chemical cement or glue. Our unique system ensures a watertight seal to prevent rain from entering into the feed silo.
No moving parts
The Dine A Chook is a maintenance-free feeder for chickens and poultry. So outside of cleaning, there is no moving part that shall wear out or require replacing.
Moulded Mounting Hooks
We genuinely have considered every aspect. Unlike imitation feeders, Dine A Chook has moulded rear hooks for mounting on most rigid cage wire. Others have hooks which are screwed on. Nothing on a Dine A Chook can rust.
Easy Carry Handle and Lockable Lid
Our lockable threaded lid keeps out the rain and rodents. Also, it has a moulded carry handle so moving your Dine A Chook around is a breeze.
Join the Dine A Chook family.
Tried, tested and loved by over 50,000 backyard chicken coops. Dine A Chook Chicken and Poultry feeders are sold in Australia, New Zealand and also the UK. Try Dine A Chook yourself today and change the life and health of your chickens instantly.