Netting your Fruit Trees
Without a doubt, a quality bird netting can stop invasive birds and animals from feasting on your fruit trees and vegetable gardens. What's more, a knitted netting can also prevent these 'pests' from getting caught up in the nets. After all, No hobby farmer wants to see native wildlife entangled or strangled among their crop. Below we discuss how to effectively use the netting around your crop, and the best types of netting to use to prevent unnecessary wildlife deaths.
To work out the most effective method of protecting your vegetable garden and fruit trees you need to identify which animals are eating your crop. This includes identifying types of birds and also the types of mammals. Common 'pests'include flying foxes, possums and rats.
Best type of netting
When choosing bird netting, there are a few standout products that we recommend. These have the following qualities:
Is made from a knitted mesh
Has a small aperture. Ours is 16mm, large enough for pollinating insects
Is UV resistant for a long lasting protection
We recommend the Dine A Chook White and Black heavy duty bird netting. With all the above qualities (and more) our heavy duty garden netting can even protect against hail and sunburn
Bird Netting Installation
The most effective way to protect your crop is to apply the netting on a frame, keeping the netting taut along the structure. This will do two things - keep the netting off your trees/garden and also prevent wildlife from getting caught in the netting.
A bird net frame needn't be elaborate, it can be a structure of timber, PVC pipe or even star pickets. It simply must be strong enough to hold the netting tightly, without collapsing.
When applying the netting over a structure remember to keep it taut. Use bricks on the ground to hold the netting in place and prevent animals from sneaking in under the netting. Another way to keep the netting in taut and in place on the frame is to use cable ties.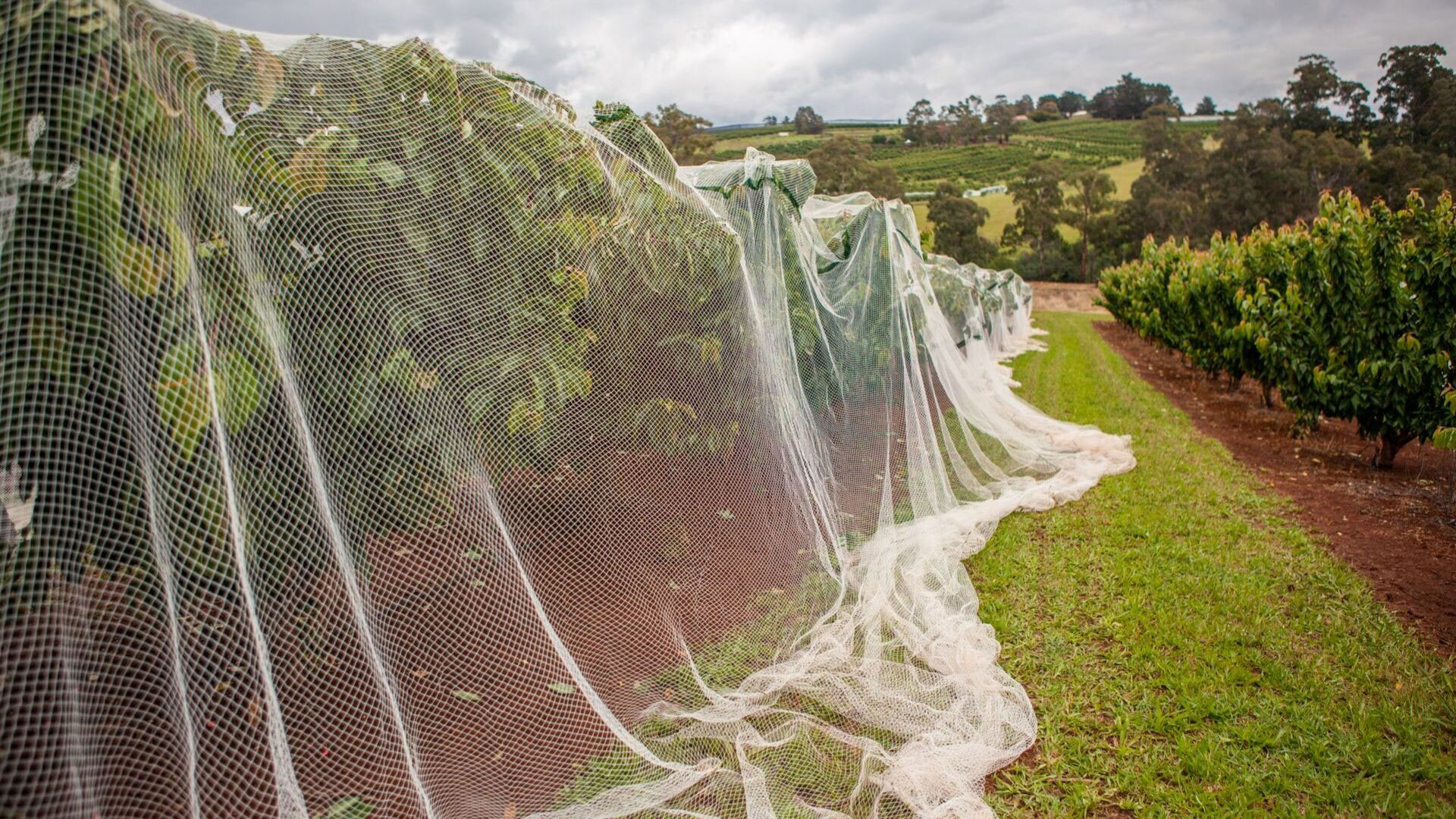 What is the difference between white and black bird netting?
At Dine A Chook we sell both white and also black garden netting. There are benefits to both colours and the choice between the two may also come down to its purpose.
White garden netting stands out on trees and gardens. This higher visibility makes it easier for both humans and mammals to see, and avoid.
Black netting on the other hand will blend in with the surrounds without standing out. The netting is suitable for a wide range of applications, not just for fruit crop.